Business owner and start-ups need to look inwards at how equipment and raw materials can be sourced locally. The more you get these things within the better the sustainability of the business and chances that the business will survive.
Plantain chips business is no exception. As a matter of fact manufacturing business like plantain chips producer need to take this more seriously. If you do;
– The starting capital won't be high.
– The cost of production will be moderate.
– Maintenance cost would be minimal.
– You won't need an expatriate to fix your equipment that would cost you more.
For chips and chin-chin business, the need for deep fat fryer cannot be over-emphasized because;
– It saves time.
– The color is always clear and attractive.
– The quantity per fry is more than frying pan method.
How to build a deep fat fryer
The first thing to do is to get the dimension of the tank you want to use. This will then determine the size of the frying basket to build. Ensure the material you use for the tank and basket is stainless steel. A set of deep fryer consist of;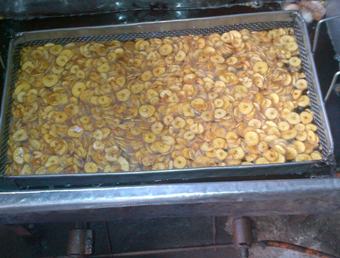 A tank for vegetable oil
A frying basket
A two way burner
A gas cylinder
A pressure gauge regulator.
You'll have to meet a welder who can help you get the materials and bend them for you.
You may get 12.5kg (Nido Gas) cylinder with hose and clips. Get a pressure regulator. This will help to intensify the heat needed for fry.
These are all that is required to build a deep fat fryer for your business. However, we fabricate these equipment. See it below.
Contact us should need any help.