Plantain Chips Production Business

Yes! you can make N200,000.00 net profit on monthly basis by simply investing in plantain chips production business. If you follow the step by step process outlined in this book, you'll make more than N50,000.00 net profit within the first 4weeks of operation and within 3months you'll be making N200, 000.00 net profit monthly.
All you need to invest is your time and N80,000= start-up capital. This is not a get rich quick syndrome. It takes planning, common sense and production of quality plantain chips to get result.
I have outlined what you need to do, how to do them, where to get raw materials, at what price, production tools you need, where to get them and their prices. Also included are the profit and loss account projection. We can also TRAIN you (on the job) if you have any challenge in producing quality plantain chips, sourcing the appropriate equipment or raw material procurement after you've read the book.
Before you make up your mind to get this book, lets dig into the business of plantain chips production in Nigeria, the available market and it's future to see if it's worthwhile.
Why You Need to Invest In Plantain Chips Production
Plantain chips business is beginning to transform to the boom days of cachet pure water in Nigeria. Who would have thought that the business could enjoy the patronage it get today even when more and more people find it lucrative to invest. Do not be cut off guard.
The business of plantain chips production is just the same. The rate at which Nigerians consume plantain is alarming.
A visit to Idi-oro or Ketu fruit market will convince you, where on daily basis about 10 lorry loads of plantain are dispatched on each market locations and by 1-2PM you hardly can get plantain to buy from suppliers directly.
Though the mode of consumption differs, but plantain chips have been known statistically to take the largest share.
The nature of Nigeria terrain, the busy schedule of average Nigerian especially people in Lagos, Ibadan & Port Harcourt and the way plantain chips is packaged couple with it's natural nutrient composition, all culminated to make plantain chips widely consumed by all and sundry irrespective of class structure.
In fact, plantain chips are important composite snack food in high demand in Nigeria market and beyond. They readily appeal and satisfy the youth, working class and adult population who have developed taste for it.
Most people can not afford the luxury of regular menu (like eba, rice, beans, amala, etc) during busy working hours, hence they buy this product in shops, go-slow and kiosk. More so, plantain chips serve as better alternative to flour base snacks.
Even school children now have taste for plantain chips. It is cheap and sweet. With N50 naira, you can get a pack. The market potential is indeed huge.
Also, the production process is simple, requiring very little equipment and space to start. As a matter of fact, you can start plantain chips production from the comfort of your kitchen. Chifles started that way, today they are multi-million international company.
Yes! You too can. With 6500= you can start the journey of becoming your own boss, employer of labour and a multi-billionaire. It is possible.
It's just up to you. If you can see it, you can get it. But, you have to start somewhere. Start here and bring about the long awaited change of difference you desire.
With this eBook, You'll Know how to;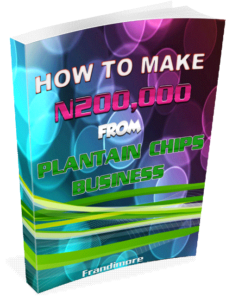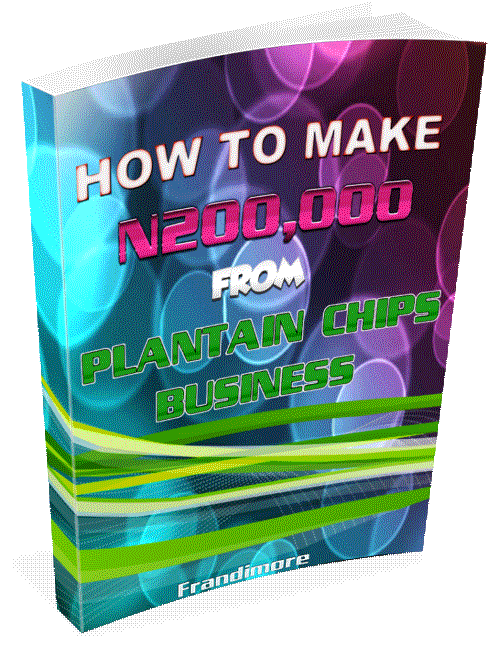 Start plantain chips business with N80,000=
Make N200,000.00 net profit monthly.
Generate Profit and Loss account.
Increase output steadily.
Produce quality plantain chips.
Procure all production tools required at cheap price
Source for production equipment and raw materials
Source for market
Market plantain chips internationally.
All you need to do is read and digest this book. You also have the option to book for training that is practical oriented.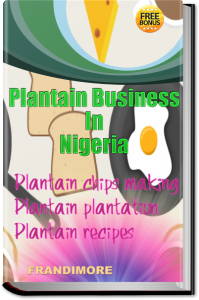 Here are two bonus eBooks on plantain chips business in Nigeria and business plan template worth N15,000.00 each, but you'll get them free.
They shall be included in the download link that would be send to you.
You can start making more than N50,000.00 within 4weeks of operation and then grow the business to make more than N200,000.00/monthly net profit within 3months. All the secrets are revealed in this book in the most simple form. It's just
N6,500=
OR
Pay the sum of N6,500= at any Access Bank nearest to you into the account information below:
NAME: New Connect Global Resources
ACCOUNT NO: 1394194575
Send your email address and payment particulars to +234 905 908 9287 or fran[email protected]. And I will send your books to you immediately.
You are on your way to success, don't get distracted. Stay Focus.