Blogger, no doubt is a good platform to learn the art of blogging. That is the way I learnt how to blog. It was helpful because it is a free blogging platform, absorbing me of mistakes made through trial and error. Then, the opportunity to use your own custom domain name and so many beautiful templates freely available to choose from are powerful features that might make blogger worthwhile especially for beginner.
The truth is those sites powered by blogger are not really owned by the people that manage them. In as much as they remain hosted on a third party server (Blogger), they are technically owned by blogger since they are the provider of the infrastructures that enabled their existence.
Why it is important to move from Blogger to WordPress
Apart from the enormous population of people that have found WordPress useful, there are so many reasons why it is expedient for brands seeking long term benefit and formidable online growth to consider moving from blogger to WordPress.
Limited access: Websites on blogger are limited in terms of customization and access to internal control while self hosted WordPress platform is a direct opposite.
Lack credibility: Business inclined website on free hosted server like blogger would be jettisoned by audience and prospective customer. That is not the way to showcase expertise.
Ownership compromised: You can lose the ownership of your site anytime without notice if you contravene terms and conditions. This can't happen on self hosted platform. You own your site forever.
Great blogging platform: WordPress is currently the best CMS with facilities that can make any type of blog or website succeed online. Guessed you'll like to know why WordPress is the best blogging platform.
Constant update: WordPress is constantly updated, making it look fresh and unique in function and deliverability.
Sincerely, free blog and self hosted are miles apart in terms of quality and control.
Consider these factors before importing from Blogger to WordPress
# Cost: If you are not ready to pay for hosting, don't consider WordPress.
# Domain name: You must have a registered domain name before considering a host. However, most hosting companies provide free domain registration for the first year.
# Basic Knowledge: It is necessary to understand basic technical terms and working mechanism of WordPress because, WordPress is different from Blogger in code structure.
# Two different types of WordPress: There are two types of WordPress CMS platforms. The free hosted on WordPress.Com and the one that require self-hosted resources- WordPress.Org. The WordPress.Com is just like Blogger. The importation of Blogger to WordPress discussed here is done on the self-hosted WordPress.Org platform.
Steps of importing Blogger to WordPress
Now that you've seen the need to move from blogger to WordPress and you've taken the decision to move. You have to quickly register a keyword rich domain name relevant to your niche.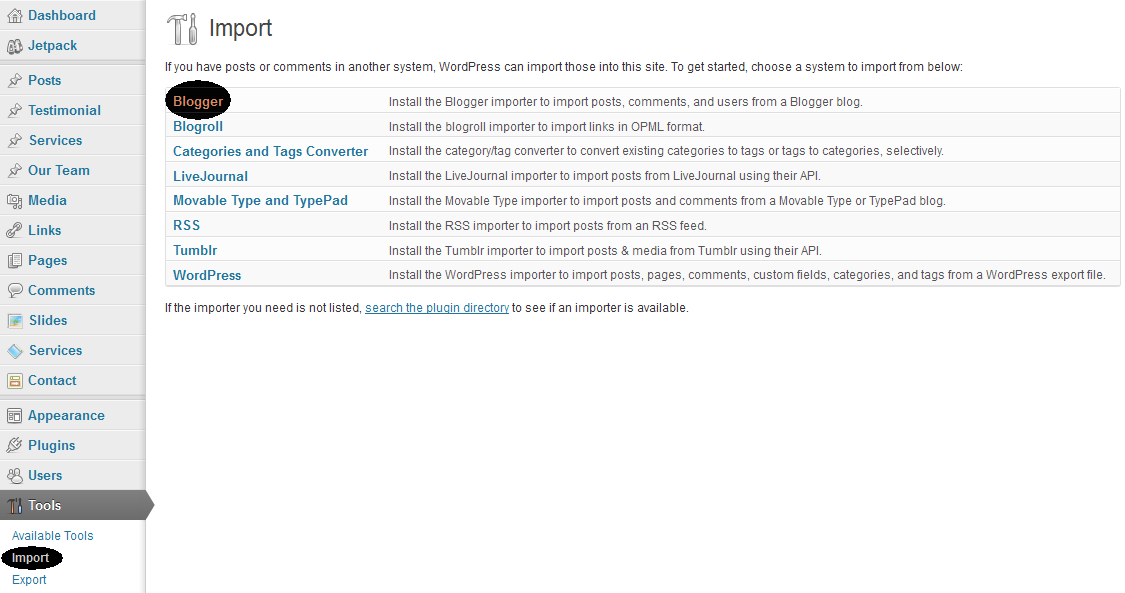 These posts: How to search for domain name, Register a domain name and How to get a good host should help you get started. However, we can help you with WordPress installation should you don't know how to go about it and also design your website or blog to have a unique brand outlook.
Ok, let's get down to business of the day.
Backup Blogger: The first thing to do after completing WordPress setup is to log in to your blogger account and backup the site you want to move.
Log in to WordPress: Log in to your WordPress admin dashboard.
Go to tools: On the dashboard, scroll down to tools on the left column and place your cursor on it.
Click on import: From the drop down menu, click on import. On the new page, find blogger and click on it. This would prompt you to install blogger importer plugin. The plugin will import your posts, comments and tags from blogger to WordPress.
Install plugin: Install and activate plugin. Authorize and grant access to import your data.
List of blogger blogspot site: You'll see all the websites you have on blogger. Click on the one you want to import and within seconds the import would be done.
That's all about the first phase of importing blogger to WordPress. The next would be to manually edit your WordPress permalink and then, update RSS Feed so that the files imported will function properly.
How to edit permalink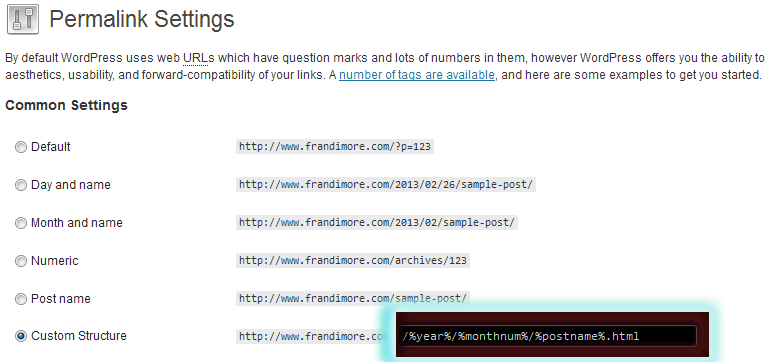 The URL format on blogger is different from the one on WordPress. To synchronize the two, the permalink on WordPress has to be edited to conform to blogger URL. To do this, you need to:
– Log in to your WordPress admin
– Go to setting and click on permalink from the drop down menu.
– Go to custom and insert the following permalink format into the box provided.
/%year%/%monthnum%/%postname%.html
– Click save button and you're done.
Redirect Blogger to WordPress
The next stage is to redirect all the links in blogger to WordPress. There is a plugin called blogger to WordPress redirect that will handle this seamlessly. To install the plugin;
– Go to plugin on WordPress admin dashboard
– Click on Add New from the menu list
– On the new page, type blogger to WordPress redirect into the search box and hit search button
– From the search result, click the plugin. It should be the first on the list because the search was done base on keyword.
– Click install and then, activate plugin.
To get full understanding of WordPress plugin installation, download an eBook that teach how you can install WordPress plugin like a pro.
– Go to setting on WordPress admin dashboard
– You'll see blogger to WordPress redirect from the list of menu. Click on it and it will take you to the plugin setting page.
Setting the plugin is a bit technical. You need a comprehensive tutorial that would guide you through the setup stages. Watch a video tutorial below.

Update Source Feed URL
Majority of websites on blogger use Google feedburner to setup RSS feed and email subscription. The feed URL format on blogger is different from WordPress. So, there is a need to update feedburner for subsequent feed path direction.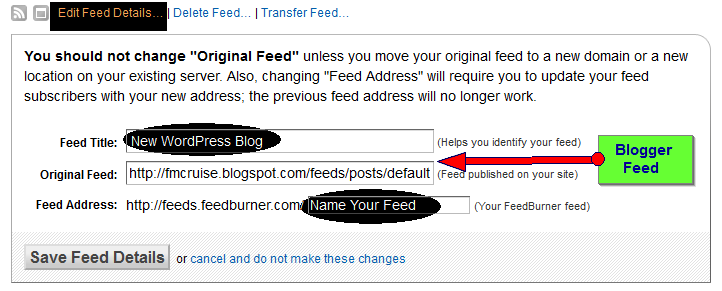 To update the feed source;
– Log in to Google feedburner with your Google email
– Click on the feed you want to edit
– Click on edit feed details at the top page
– Change the feed title to anything you want, e.g. New WordPress Blog. This name is just easy for identification should you burn more than one feed.
– Change the original feed to WordPress URL feed format. (From http://fmcruise.blogspot.com/feeds/posts/default to http://frandimore.com/feed/)
– On feed address column, you can only edit the box content. Type the name of your feed inside the box, e.g. New WordPress Blog or frandimore.
Note: Feedburner may auto fill the box if the initial name is not well formed or the name exists either within the feed platform or somewhere else.
– Click save feed details.
Install FD Feedburner Plugin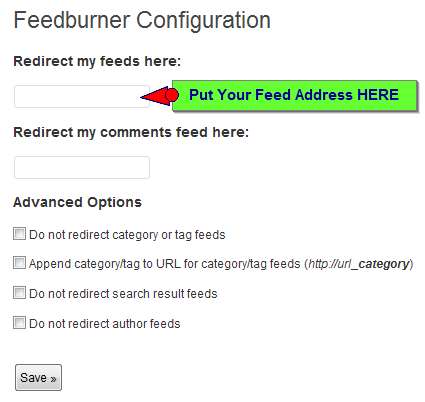 To complete the process of feed update, you'll have to install FD feedburner plugin so as to effectively direct feed to a specified location.
On the admin dashboard, go to add new on plugin and install FD feedburner.
Plugin > Add New > Search > Install > Activate.
Go to setting on admin dashboard and click on FD feedburner from the drop down menu.
Insert your FEED ADDRESS as specified on your Google feedburner account. It should look like this;
http://feeds.feedburner/NewWordPressBlog
Click on save button and you're done.
All the above procedures are the steps needed to be taken to import blogger to WordPress if you do not want to lose a thing. Here is a recap for quick reminder:
WordPress self-hosted installation > Installation of blogger to WordPress plugin > Move posts, comments and tags from blogger to WordPress > Edit permalink > Install blogger to WordPress redirect plugin > Set the plugin properly > Update Google feedburner > Install FD feedburner plugin > Redirect feeds to new source.
Moving from blogger to a self-hosted WordPress platform can be the best blogging experience, but many bloggers would still find blogger useful in a whole lot of ways because;
# It is free
# It has customization options like custom domain, beautiful templates and widgets.
# The ease of setting up Google Adsense to make money
# Google search engine favor sites on blogger to an extent
# A platform to learn how to blog.


What is your take on this and how else do you think we can import blogger website to WordPress effortlessly with files and media intact. I'd like to know in the comment box below.
Latest posts by Francis 'Toke
(see all)