It is really easy to install WordPress theme in as much as you know the procedure. The process and format remain the same whether you are a beginner or professional. WordPress platform provides definite step by which theme could be installed. Once you grasp the process, then you are set to installing themes on the fly.
Installing new theme would not have been necessary if the default theme that accompany WordPress installation in most cases Twenty Eleven or any other basic theme were good enough. Usually, they don't meet the need, aspirations and capability of an envisioned site, let alone branding that help create a voice among multitude of competition.
It is therefore imperative to find a theme that would not only be adaptable to the over-all language of the site, but one that is responsive and able to compliment the total structure and target of the site.
There are basically two distinct methods of uploading and installing themes on WordPress. The first is through the admin back-end while the other is by FTP program. Let's take these one after the other.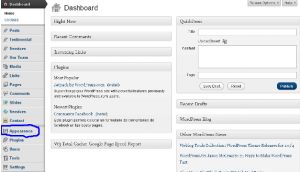 Installing WordPress theme from admin dashboard
1. Download theme. After searching and selecting the theme you want from the thousands of free and premium themes available online, navigate to the download link and download it to your hard drive. Theme package usually come in zip file. Get WinZip to open the theme folder. The theme folder may come with more than one file. Locate the theme base folder.
Other file could be documentation, images, icons, etc. It is important to check all the documentation that comes with it. Sometimes, there may be specific action to perform before a theme can work properly. For instance, a particular code could be required to be edited and uploaded into a database.
So, please check with the theme developer before commencing installation. These are some of the little things that could hinder effective installation of a premium theme. Before downloading a theme, always preview it through the demo and read the features. Navigate through and check if it really suite the need of your site before downloading or make a purchase.
2. Log in to WordPress admin panel. From this back-end, go to Appearance and click on theme from the list of drop down menu. You'll see a theme that has already been installed by default. At the top of the installed theme, there are menus. Click on install theme.
Within the install theme page, there are numerous WordPress themes that could be installed right within the admin panel. Nevertheless, this is just another option of installing WordPress themes automatically that could be explored in the course of building website.
3. Upload theme. At the upper part of the page, you'll see Search, Upload, Features, Newest. Recently Updated menus. Click on upload and from the page you can browse files on your system. From the dialog box that appears, find the folder that contains the theme. Select the downloaded theme in zip format and hit the open button.
4. Install. Click on install button and wait for WordPress to do the installation automatically. Activate theme and your new theme become live on your site.

Installing WordPress theme by FTP client.
The procedure still remains the same as above. The only difference is that the theme is uploaded via FTP and then, activated through WordPress admin dashboard.
1. Log in to FTP client manager. Log in to your hosting account through cpanel or via customer portal as the case may be to access file manager or log in directly from your computer to FTP manager like FileZilla, Cute, Smart etc. Watch a video on how to setup Filezilla, upload and manager files with it.
Now, upload the theme to the wp-content/theme directory. If you upload the theme file in .zip format, you'll have to extract it within FTP pragram. In the alternative, you can extract it with WinZip on your system before uploading.
2. Log in to WordPress admin panel. On the dashboard, go to appearance. Click on theme and activate the theme uploaded. That becomes the default  theme on your website. And that is all about installing WordPress theme.
However, ensure you read through each theme features and documentation for installation guidelines and the use of other theme packages like short codes, page templates, installed widgets, plugins on theme, etc.
Contact us should you need help in this regard. Don't forget, we can setup WordPress powered website for you absolutely free.
Latest posts by Francis 'Toke
(see all)