There are so many blogging platforms on which a free blog can be created either for business or personal purposes. Before you start a blog, it is expedient to have something within a niche to share with the world.
A niche you command vast knowledge or can do thorough research with the aim of bringing quality and up-to-date information that will be of great benefit to your audience.
Also, your business visibility can be enhanced with blog, generating leads even better than a static website because with blog, you are able to build a community and readership giving your product or services the required audience and patronage.
But, for the sake of credibility and brand acquisition, it is expedient to setup business blog on a self hosted platform.
The difference between a free blog and self hosted blog from business perspective is huge. Nevertheless, a free blog has all the functions and capabilities of a good blog and it is very easy to setup and maintain especially on blogger.
Procedure for setting up a free blog.
For the purpose of this write up, we shall be considering how to setup a free blog on blogger. A free blog can also be setup on WordPress and many other blogging platforms.
Blogger is own by Google which implies that you have to signup for a Google account. I would advise to first get a Google account if you don't have one by signing up on google.com.
Follow the steps one after the other. When you are through, ensure you keep both your email address and password because, that is what will be required to log-in to your blog thereafter.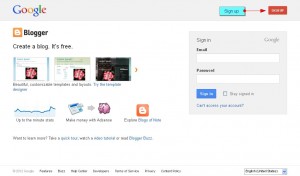 Now go to blogger.com. At the base of the page you will see create your blog now in red color. Click on it and that will take you to another page where you will fill a form prompting you for the following information;
Blog title – The name you want to give your blog; the niche or your product or services. This is the name people will see when they visit your blog. It is what your blog stands for.
So, let it reflect the true meaning of your blog, e.g. Insight Corner. Make your blog title search engine optimized i.e, let it include your major keywords.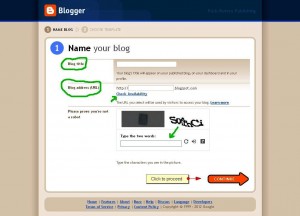 Blog address (URL) – This is the URL of your blog. Make sure it also contain your keyword. Do a check to know if it is available.
You can do keyword search on Google or wordtracker for proper optimization most especially if it is a business blog or an eventual Google Adsense installation and other monetized instruments are intended.
Word verification – Blogger needs to know that humans are accessing their site and not robots. So, type in the letters as they appear into the box provided and click continue.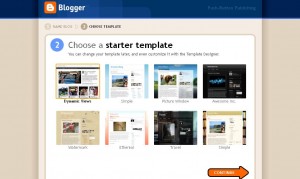 The next stage is to choose your template. There are lots of free templates on blogger and custom-built templates to choose from. Click on one and continue. You can customize it to meet your taste later and with lots of widgets.
The next stage tells you that your blog has been created.  View your blog and create a post. A post is the display or publishing of an article on a blog for public consumption.

You can see that the step in creating a blog is really simple. Should you need help, use our contact page and we shall respond to your needs accordingly. Best of luck.

Latest posts by Francis 'Toke
(see all)