Whether we like it or not email have become part of our daily means of sending messages to targeted audience. This is so because the delivery is fast, direct, explicit and cheap. The virality of email apart from its importance hinges on the fact that it is available free of charge for every individual that have little knowledge of internet browsing. This indeed makes it a veritable tool for marketing.
But, what will you do if your inbox is reading 320 unread messages when you can not just delete them because you are expecting important message from a client? It does happen many times if we fail to check our inbox regularly and take pro-active steps to dislodge them appropriately. You'll discover that important mails are buried within less important ones making it hard to locate the ones that need urgent attention.
Don't worry any more, here are what you can do to always find your most important emails while you also maintain zero inbox. Before I proceed, let me quickly clear the dust in the air about this zero inbox terminology.
What is Zero Inbox?
This does not mean there would be no mail in your inbox at any given time. Zero inbox simply means managing incoming mails to a level where you can control what gets into the inbox and the ability to clean it up without stress thereby availing you the opportunity to quickly see important mails at a glance. I feel this is good for business from customer relation and PR stand-point.
For instance, what will be the perception of prospective customer if they couldn't get prompt response to requests made for product or services via your website through the contact page or request a quote form just because you couldn't find the mail on time? Your guess is as good as mine. Up they go to your competitors. Don't let this happen to you.
Tips and insights for maintaining zero inbox.
1. Get Gmail: Except you have paid email account like info@yoursite, Gmail have the best spam filtering software incorporated into their email delivery system. This is important because often time we get unsolicited mails from diverse quarters.
Gmail ensure any mail that have not been granted prior permission can not find its way into the inbox. They go directly to the spam folder. However, it's necessary to check the spam folder before hitting the delete button. Gold could be found in jettisoned locations, you know.

2. Label and filter: It is good culture to label incoming mails into categories with names relevant to their importance, source or action needed to be taken on them. You also have the option to filter with keywords or set automatic actions like skip the inbox or delete. With this in place, only adjudged important mails will get to your inbox.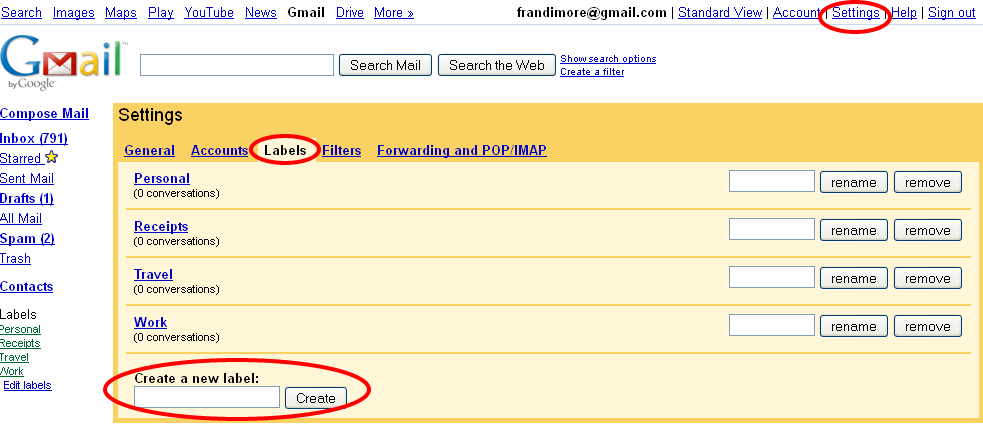 Create Labels

Creating Filter

Fine Tune & Test
3. Unsubscribe from unwanted Newsletter: Email marketing is one of the oldest and growing marketing strategies used by seasoned marketer. It is common therefore to find company's email campaign or newsletter in your inbox even when you have not subscribed for it. A good and clever email campaign always have unsubscribe or manage subscription button either at the top or bottom of the email letter. Click unsubscribe and that would be the end of  receiving mails from that source.
4. Out of Office Response (OOF): Virtually every email providers have this tool. The tool is meant to send generic message that have been pre-composed in response to an incoming mail. Maybe you're out of town on vacation where you want to devoid yourself of any office task or mails generally, you can set this message and it works on auto-responder.

The message could read thus:
I'm on vacation; hope to respond as soon as I come back.
If you work in an office where there is team play (work in group), you can make reference to any of your group member that can help within the content of the message.
5. Learn to delete messages: It took me extra effort to learn the act of deleting messages especially important ones from clients. I always want to keep them probably as reference or something close. It was lately I discovered that message actually expires as soon as they are opened and acted on. Imitate the habit of deleting messages you've treated. They won't clutter your inbox. But ensure you know you'll not need it again before you delete.
6. Get a Smartphone with internet connection: Take advantage of the diverse email applications out there to manage your inbox without stress. For me, I synchronize my email portals and funnel them to a single central inbox and set notification in form of alert.

I no longer have to check the several email accounts I have. My phone alerts me of any new mail on that account and I respond as such. Also, it becomes convenient to read, respond and clean up your inbox anytime, anywhere.
What is your take on this?