It is a common occurrence to change domain name especially when moving from one blogging platform to another. If the URLs of the content moved are not updated it can lead to too many 404 errors especially if the site from which they were moved have been deleted or redirected. This is not good for user experience and it's also bad for SEO.
These are some of the challenges people face when they switch their site from a platform say blogger, Joomla, Drupal or WordPress dot com to self hosted WordPress dot org. Some could be smart enough to get a custom domain running on the old site before the migration so that there wouldn't be need to change URLs when the movement is eventually done.
However, if you want to update your content URL to conform with the new or current one, chances are that you've been doing it manually. This can be cumbersome when you have hundreds of URLs to change.
Using a resource that can do it automatically would naturally be an option you would like to us if it would do the same job.
There is a plugin called Velvet Blue Update URLs we came across that does this job effectively. We had to search for it because we equally need it to ensure our client's website is up and running effectively whenever we help them move their site under our free WordPress blog setup services.
How to use the plugin to update URLs
All you have to do is to install the plugin by going to the WordPress admin dashboard. Mouse over 'Plugins' and click on 'Add New'.
Type the name of the plugin (Velvet Blue Update URLs ) into the search box provided. Install and activate the plugin. You may read our post on how to install and activate plugin on your WordPress site.
After installing the plugin, go to setting on your dashboard and click on the name of the plugin. This will take you to the plugin setting page.
You'll see where to input the old and new domain name. You will also choose which URLs you want updated.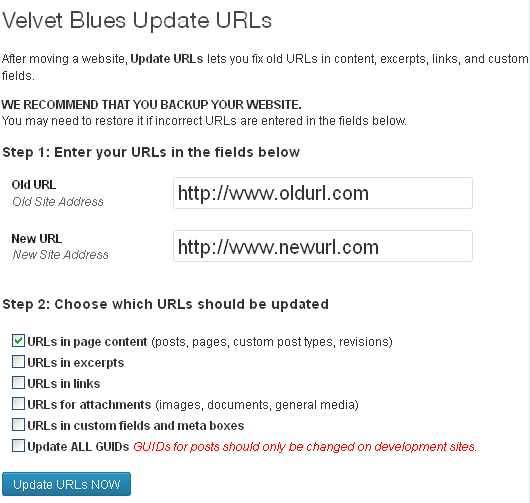 Once you click the 'Update URL Now' button, all the URL content will be updated automatically. This look too simple to be true, but that is what the plugin does.
Conclusion: It is important to update URLs to conform with the new domain whenever you have course to change your domain name while migrating from WordPress dot com to WordPress dot org for instance.
Because the links formed with the previous domain will not change until they are effected either manually or automatically using this plugin.
Making your site user friendly and accessible to search engine spider for index starts from ensuring all your links are working.
If they point to an error page because you fail to update them accordingly is a disservice to your visitors and blog readers. This won't project the brand you're trying to build in a good light. What do you think?
Latest posts by Francis 'Toke
(see all)