When you have done all the research needed to gauge the performance of the web host you intend to use and you are satisfied with them, you'll then take the step to sign up with them. We recommend hostgator or Godaddy.
They are part of the best web hosting platform to start because they have excellent customer service and video tutorials to help guide you through the experience.
Apart from this, they provide clients with SEO tools, marketing ideas, email facilities, free premium themes and many more.
Their prices are highly competitive and offer 99.9% uptime guarantee on the cheapest package. You this coupon code –frandimore to get 25% off any hosting plan on hostgator.
Let's use hostgator as an example on how to sign up with a web host. Log on to hostgator.

Click on the hosting plan that best suit the purpose of your site and the cost you can bear. They have hatchling, baby and business plans.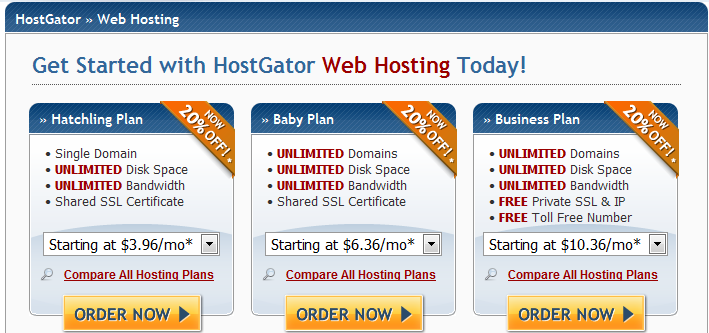 If you've registered a domain name, enter it into the box titled 'I currently have a domain name', if not enter a domain name into the first box titled 'Register a new domain'.
Hostgator provide free domain name registration for new customer.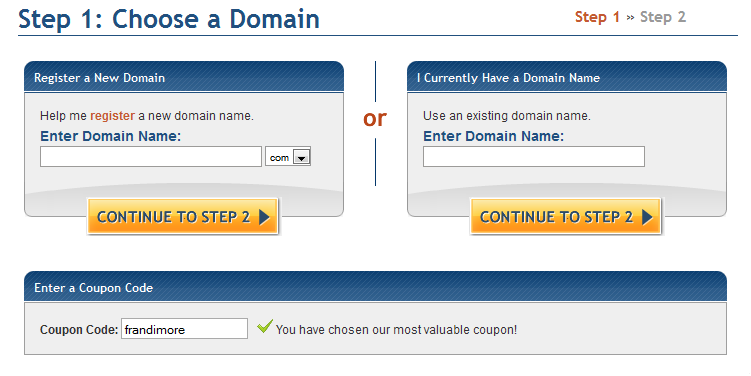 The next step is to create username and password, then the billing information. You need to have a credit card to make this transaction. Once the transaction is completed, an email is sent that contain all the necessary information that would aid setup process. E.g.
Control panel link
cpanel username
cpanel password
Domain URL
Nameserver 1
Nameserver 2
If you register your domain name with another domain name registrar like Godaddy, then you'll have to point the domain name to the host server.

We shall be glad to know in the comment box how you manage to register your website on your preferred web hosting company and why you chose the hosting company.
Latest posts by Francis 'Toke
(see all)