It is not unlikely that images or attachments may fail to upload when migrating from one blogging platform to self-hosted WordPress site.
This occurrence can make your blog post look dumb with lots of text. Sometimes, even when the images are uploaded into media library, you discovered that they are still linked to the old source. However, you can use 'Velvet Blue Update URLs plugin to quickly correct this error neatly.
What do you do when the images are not uploaded into your WordPress site at all? Maybe you've just migrate your content from WordPress dot com into WordPress dot org and none of the images you had on the former blog post are showing on the new site neither do you see them on the media library.
I hear you say you'll upload them manually. In an event where you have hundreds of images to move, what happens? I bet you won't want to think of manual upload let alone implementing it. What if you have an automated way of doing it? That is what this post wants to help you achieve.
There is a plugin called Import External Image we researched into that can help you do the job perfectly. It will import all your external images on post in batch of 50's and add them as gallery attachment.
How to use the plugin
The first thing to do is to install and activate it. Upon activation, the plugin adds import images functionality to your admin dashboard under media menu and post editor.
So, go to Media and click on Import images. The plugin will attempt to search for external images linked to within your posts and display them.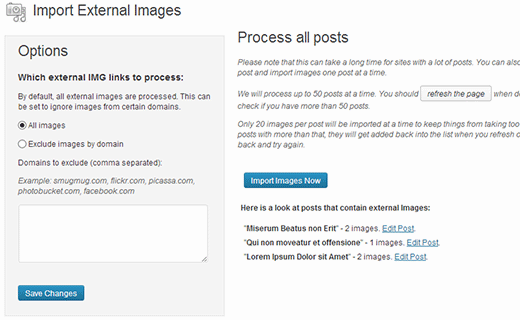 All you need to do is to click on import images now for the upload to commence. It will stop after 50 images have been uploaded and then display the ones that are yet to be uploaded. If you want to upload more, you'll have to repeat the process until all the images are imported.
In the same vein, you can use the post editor to import images for individual posts. All you need to do is use the WP post editor to edit the blog post you want to import the image. The plugin will automatically pull the images linked to on the post and you can then import the images.
Watch a video by WPBeginner on how to import external images

Don't forget that you can transfer these burdens to us when you request our free WordPress website setup services. Do let us know how else we can help should you encounter any problem with importing your external images.
Latest posts by Francis 'Toke
(see all)