It is an established fact that Facebook remain one of the best social media platforms where brands should be to excite target audience so as to make them connect with products and services. Why? Because more people find Facebook useful to interact and share content with friends and loved ones.
Also, it has fan or business page that contain lots of business promotional tools amined at building brand specific community. What you do with the community is entirely up to you. However, you can choose to turn them to customer and this should be the primary purpose for building it in the first place.
Many businesses have been caching on this and most are experiencing tremendous growth in terms of turn-over and profit. But there are techniques you must employ to get the desired result. Just as setting up a website is one thing, building it to attract and convert target audience to customer is another thing entirely.
How then can one build Facebook fan and convert them to paying customer that translates to business growth, you may want to ask. The first step is to create a Facebook page that have the affinity to attract Facebook users.
How to create Facebook business page that attracts audience
It is very easy and simple to create Facebook business page which I believe you should be able to do. To get more than the usual result, you might need to request our Facebook page setup services.
Nevertheless, you can get started quickly with a business page on Facebook for your business including the following features at setup stage.
– Cover image that speak your business language, but must not be promotional in nature.
– Profile image that should be your business logo
– Business tagline with a link to your website
– Minimum of two application tabs for contact us and subscription pages. This depend on your niche.
– Vanity URL that is easy to remember.
After this, the next step is to pull traffic through Facebook to the page. Without fans it would be nearly impossible to get customer.
How to build loyal Facebook fans
Your fans are the audience that characterize your online community on Facebook. You have to understand what they want, how they want it and when they want it delivered. Below are tips that would set you on the best pedestrian.
Post frequently: People are hungry for useful information. Your page become the destination within your niche if you can serve your audience with relevant information at all time. Do not litter your page with too many updates. Don't forget the post will appear on your fans news feed. Tempt them not to spam your content. The golden rule is to post once per day.
Quality content: Don't post because it is important to post when you do not have good content to share. Always ensure your post are in consonance with your industry. Nothing is as confusing as page that lack direction.
Use compelling images: Image they say is worth a thousand words. Image rocks on social network and mobile application. Always use images that further explain the content thought line. Image help to engage audience better that text. Use them wisely.
Time: The number of fans that see a post depend greatly on the time you post. An average post have shelf-life of 3.5hours. That is, the time decay it has before it fizzle out. Study your Facebook insight to know the best time your fans interact more with your content and post consistently around that time.
Niche relevancy: It is important to post within your page niche. Do not create haphazard content that has no focus. This might make it difficult for people to understand your brand.
Automate post: It might be pretty difficult and time consuming to post at an expected frequency especially during tight and busy days. You can use social media publishing tools like Hootsuite to schedule your post.
Promote special updates: Ever since Facebook introduced 'promote post' tab visible after a page has 100 fans, automatic post delivery to fans status feed have dwindled drastically. So, to get maximum exposure for your post especially promo or affiliate posts, you might need to use this feature.
It's not really expensive when you consider the long term benefits and the fact that it is not compulsory.
Now that you're building your fan base, it's time to simultaneously excite them to visit your website where conversion is expected to take place.
How to build traffic to your website from Facebook
Let me quickly contest a notion- The idea of using Facebook page tab to create a mini site through the use of third party server is marketing effort in futility. Why?
1. There are so many distractions (chatting, ADs, content sharing, etc) on Facebook that would naturally blur the sight of audience/fans from accessing the tab. Maybe 2 out of 15 might click out of curiosity if they find the tab cover image compelling.
2. The extra advantage of customizing the tab with compelling image is not a solution.Because,
3. The target focus of audience is on the post, images and probably the comments post have generated.
4. The tabs are not mobile friendly by default except optimized through premium features.
5. Making the tab the landing page for a particular campaign does not make it better (in terms of conversion) than full-fledged self-hosted website.
A building that stand on it's own is far better than a room in a mansion. The only little clause is that if you can integrate your website to function on Facebook page Tab just as we did with our business eBook that may be better. But, there is nothing you can do to the distractions and mobile dysfunction.
All these imply you should build a website where your fans can fully absorb and understand your brand chemistry.
If your business have a website, the primary reason why you created Facebook page should be to send traffic to the website. The fan page in this instance is an advertising channel meant to serve the website with traffic.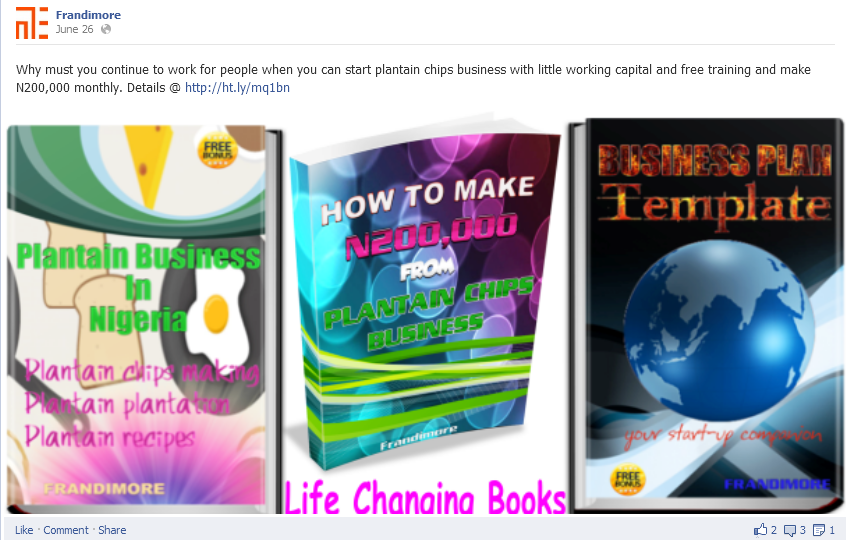 Here are tips on how to get it done.
a. The tagline below the profile should include link to your website.
b. Status update must contain a link to specific landing page on website that align with content.
c. You may use tiny URL (short-link) for links to heighten the curiosity built on content for audience to click.
d. The content should contain call-to-action strong enough to prompt audience to click the link.
e. The post should be short, simple and direct.
g. People like quality and useful resources that are free. You could create quality downloadable eBook around your industry and give it out free.
With these, fans are more likely excited to visit your website. What happen thereafter would depend on how your website receive them, but the target is to continue the flow that was developed from Facebook until the fans are converted to customer. So, the landing page must load fast and the unique selling point or call-to-action used on Facebook must also color both the content and proposed offer.
Irrespective of the action you want them to take, it is important to funnel traffic through specific lead where you can continue to nurture them till they become customer. The best way to do this is to include a simple form where you can connect with them through email or phone call.
You can download free eBook on hubSpot to get the full package of how to effectively nurture, segment and split test your lead. Let us know what you think.
Latest posts by Francis 'Toke
(see all)