There are many great and absolutely free online favicon tools that take off the burden of creating and converting favicon for website use.
Favicon is the small logo that appears on the left side of a browser when a web page is displayed and it also has the capacity to appear beside a bookmarked website.
Online favicon generating tools offer specialize packages that are aimed at delivering quality images/logo specifically for favicon purposes.
Some sites even go a step further to present tutorials on how to create, convert and install it. All you need to do is design a logo of your choice either on any of these sites or somewhere else like Adobe Photoshop or you may upload a picture on the net, convert it to favicon format either in static or animation form and then, download the package to your system.
You may edit the uploaded image or further customize the converted logo. There are arrays of things you can do when creating favicon with these online tools.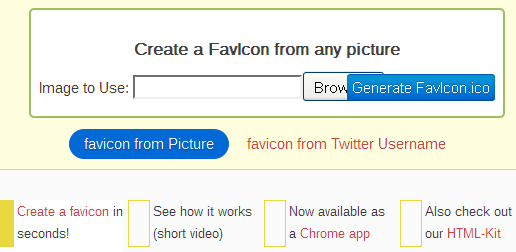 List of Online favicon tools.
Though these tools are offered free, but I would still advise you work on the logo design using either Adobe Photoshop or CorelDraw.
Get someone to design a logo that represents your brand equivalence if you don't know how to create one yourself. Then, use any of the above tools to convert it to favicon. Html.com would just be perfect for this purpose.
After generating favicon, the next step is to upload it to your server. Ensure you make your business unique by creating special favicon that is solely meant for your brand. keep being the best you can be. Your success is our passion.
Latest posts by Francis 'Toke
(see all)